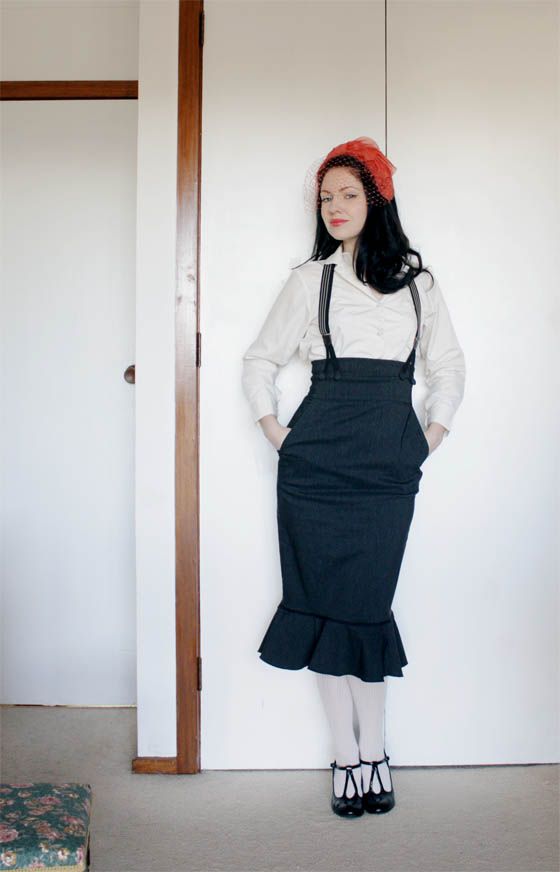 So here I am, catching up once again... I am sorry. Things got a bit manic (in a good way) and I will have something to show for it soon! I have since had a big allergic reaction to my cat (and I now look gross; oh dear), so in some ways it is good that I got behind with my posting as I have some from last week to share, and can wait for post-reaction-face to settle.
And there have been some other minor irritations, too; like here, my tripod was
very
broken
and the camera kept sliding down the pole, leaving me with some pictures taken from a much lower spot than is ideal, and, in these pictures, me making some rather strange faces. Of course, my tripod wasn't broken at all, and just needed something tightened, but I only worked this out afterwards. Well, you live and learn...
I have had this skirt and attached braces for a few years now, and I still love it. It is new (well, now new-ish, obviously) but I love braces (suspenders to some, but suspenders to me are what you hold your stockings up with. You can imagine my initial reaction when I hear about men wearing suspenders to, say, important business meetings, then), I love them on men and I love them especially on women. These ones are the button attach-y ones, and I have no other skirts with the required buttons on them (I really should fix this) but I do love the shape of this skirt, too. Here it is with a little round collared vintage blouse, cream tights and my old faithful target t-bars. I really must get another pair to replace these, as sadly they can't last forever.
I seem to have been bitten by the vintage-hat-collecting bug! I love this one; the bow! the coral colour! the
netting
!!! Actually the netting has a little tear, and I am in two minds about sewing it together. The mend would show, and the tear isn't so bad... we'll see. I didn't wear the hat with this outfit, in the end, as I am still deciding (and moving just slightly slower than glacial speed about it, too.) Anyway, I must thank the reader who suggested Mac's Vegas Volt lipstick; the colour is great, and the colour match with my hat is perfect! So, thank you, thank you!
hat

dear gladys (great shop in Northcote High Street. Go, go!)


blouse

vintage, thrifted


skirt & braces

cue, several years ago though


tights

ummm, thrifted (new in packet), I think?


black shoes

well, you know by now! :)