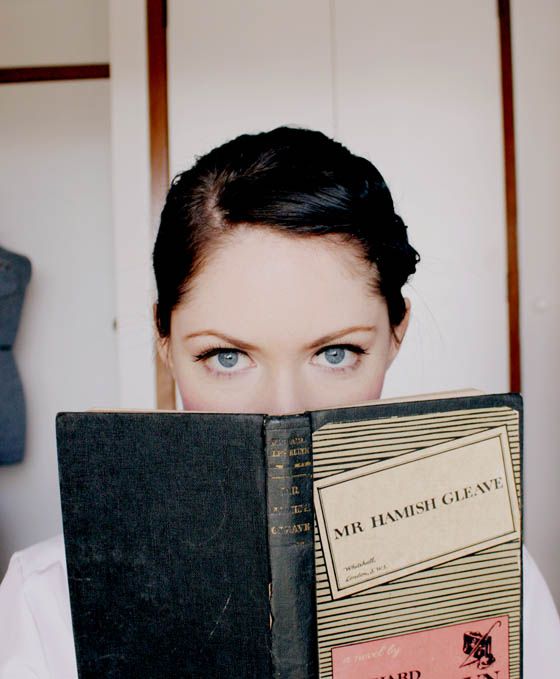 Wow, so today is the last day of June, and that means the end of the first month on winter. Wow, that flew... I was planning on doing posts about things I love about winter (and there are many things) but time has really been getting away from me lately. Still, this kinda points at one, sort of, a bit... ;)
It has been really, really windy (and cold, and blustery rainy in general) here all week, and, on a day off, I love to waste time drinking tea and reading books (which might just explain where my time has been going!). And then I was inspired by two lovely ladies I work with; one, for the vest, and the second for the eyelashes! One of our mannequins at work, Lola, is a beauty from the 1940s, and she has the most amazing eyelashes that cast shadows on her perfectly sculpted and painted cheeks. So, thank you, ladies!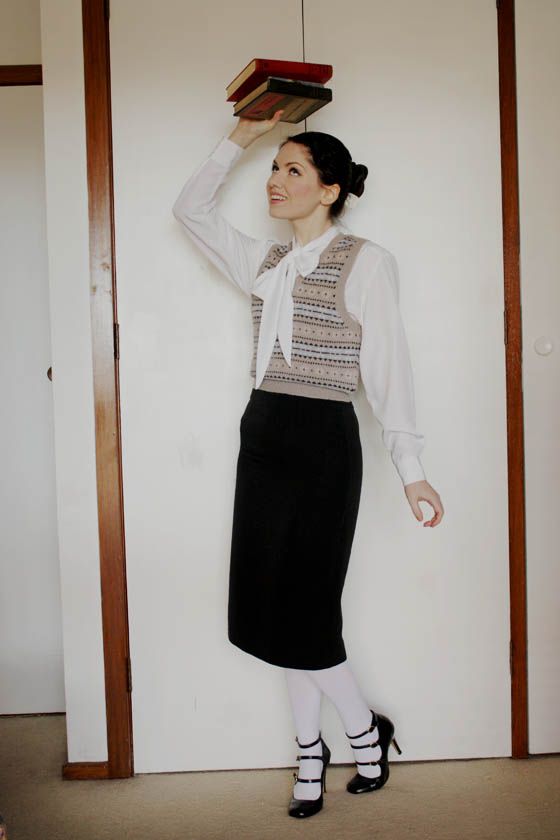 Ideally, I would love to have some black glasses – I love cats eye shaped ones – as I think black rimmed glasses look great. Unfortunately getting lenses, even clear ones, put into glasses is so expensive here that it is too much of a luxury for me, for now... But, if I can't have black glasses, I can still frame my eyes with long, black false eyelashes. I find that the glue that comes with false lashes is a bit rubbish, and so I buy a special one – and it is amazing; no more lashes making a bid for freedom here. With these dramatic eyes, I used my new pale pink lipstick; it is such a change from my usual strong coloured lips but with dark eyes, I really like it. And I've already chatted on a bit, so I'll keep this brief, but on the advice of a friend (with amazing hair) I gave a certain hairspray a try – and I love it. It is really hard to take pics of pin curls in my dark hair, but hey, maybe you can see them... now the wind has died down here I look forward to having some big hair again. I feel so strange without it, and even though I do like my little boos*, my strict little bun looks better in real life than in photos! I feel a beehive coming on...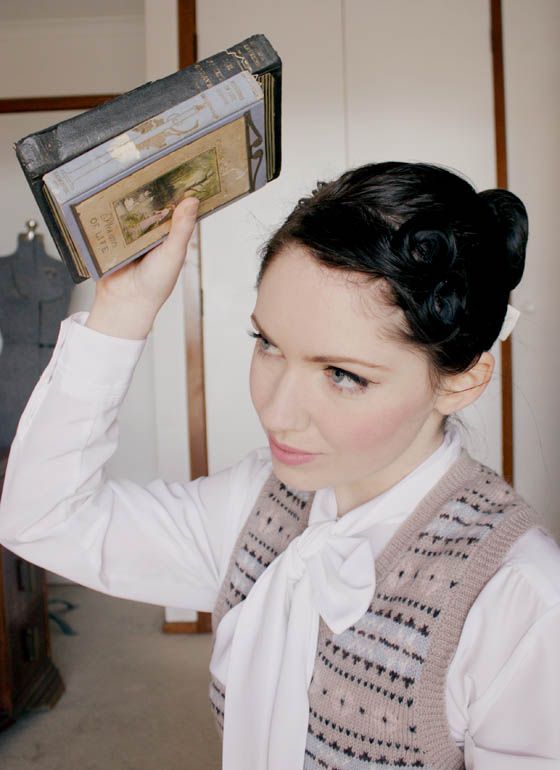 wool vest

second hand shop in Brunswick
white pussy bow blouse

op shop
pencil skirt

Circa Vintage Clothing
white tights

welovecolors.com
black shoes

mollini.com.au
white bow in hair (I tried to photo it but FAIL, hehe) vintage bow tie, vintage furniture shop in Brunswick


*little boos are my pet name for those looped pin curls I wear flat on my head