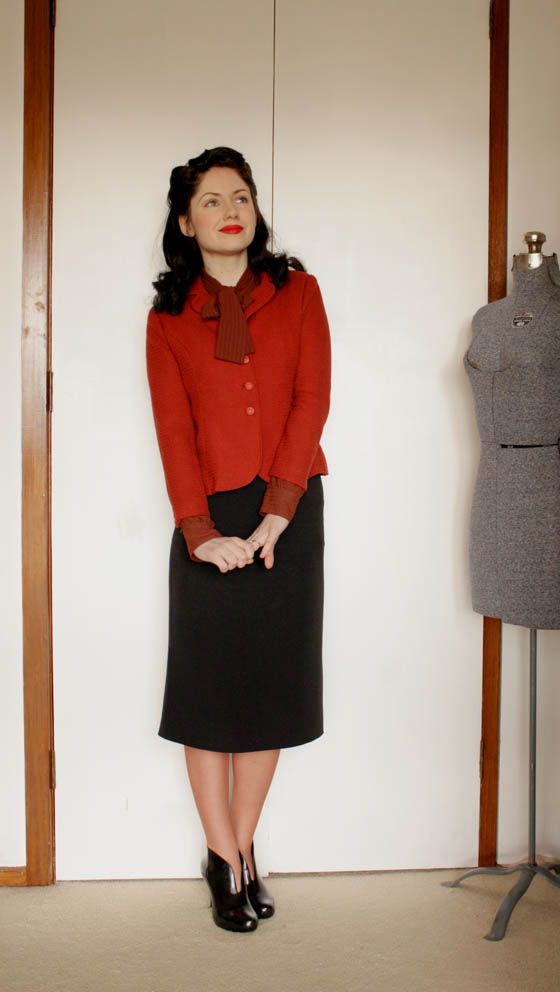 Well, hello, internet bloggy land! First of all, I must explain where I have been – erm, nowhere!
BUT
I haven't had my usual computer access, and so haven't been able to be a very good blogger. But I now have access once again, and can try to improve... and I can play catch up, too. I feel like there is so much I want to post, but I don't know where to begin. (And don't you hate it when people say "well start from the beginning!"? That is really annoying, especially as when you think about what you're flapping about, they are actually often right.).
So, this is me last Friday, before work. I have a terrible cardigan shortage (terrible!) and can't find any good ones to fix it. I went op shopping last week, and, after a pointless search in the cardigan and jumper section (new knits these days are often sad little dish rags; the ones in op shops are these sad little dish rags after several years of hard labour) something in the kids' section caught my eye. I love this rust colour, and found it was a little jacket... and it fits really well. The sleeves are, of course, too short, so I will turn them into bracelet length ones, and maybe add a button. I could shape the waist a little more, if I start feeling
really
adventurous with my needle and thread, but it actually doesn't really need it. It is a perfect cover up. And, as a final happy-making touch, it turns out it's not an '80s-doing-'60s, as I had first thought, but a bona fide '60s jacket. Not that it mattered either way (another thing to post about), but it is nice to know, and I admit it – I like this fact!
As the sleeves don't look deliberately short yet, I wore it with a similar coloured blouse, and finished things off with my copper coloured vintage fully fashioned stockings. Actually, I
really
finished it off with a wide, shiny black belt, to match my new shiny black booties (which deserve a post all of their own... see, I've lots to do here!) but it was Friday dawn (uh, 9.45am), I'm not a morning person and I hadn't had a coffee – so remembering to photograph things properly – belt showing and so on – was never really going to happen... :) still, there is always next time.
rust coloured vintage jacket // op shop (and no, I don't often find vintage at op shops, it's a lucky one!)
blouse // op shop
pencil skirt // circa vintage clothing
fully fashioned stockings vintage, new in their box and unworn when I got them // vintage shop
black boots // melissa (!!!)